Community Services
The services available to the residents of Grenada Village are regarded as being excellent and quite exceptional with the area having more services and amenities available to its residents than most other suburbs in Wellington of a similar size.
Bus Service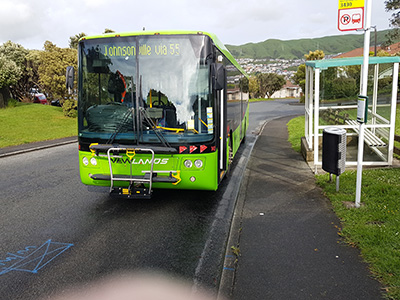 Grenada Village is serviced by Newlands Coach Services (a subsidiary of Mana Coach Services) under Route 55. A full peak and off peak service to Wellington CBD is provided.
Buses travel to and from Courtenay Place in Wellington city via Newlands (Stewart Drive) and Johnsonville between 6.29am and 10.00pm each weekday with a full hourly service on Saturdays and Sundays. The after midnight service also operates on Saturday and Sunday mornings with buses departing from Courtenay Place at 1.00am, 2.00am and 3.00am.
For full timetable and service information contact Metlink on 0800 801 700 or Online at www.metlink.org.nz.
Newlands/Mana Coach Services operate a Smartcard which is a debit card containing prepaid fares. This card provides a saving up to 27% on travel. The initial purchase costs $10 to hire the card plus a minimum of $10 worth of prepaid travel. Smartcards and top-ups can be purchased from the drivers (cash only), online, or at their depot at 44 Newlands Road (cash or eftpos).
Education
Grenada Village is well covered by nearby schools with Paparangi Kindergarten, Paparangi Primary School, Newlands Intermediate and Newlands College. All of these schools have high ERO ratings and commendations. Newlands College has an excellent reputation for academic achievement and is internationally recognised as being a high quality educational institution. Many of their students attending come from a variety of overseas countries.
The Leaps and Bounds Early Learning Centre at 1 Aruba Drive (off Grenada Drive) is a purpose built facility providing a child-led environment for children aged 3 months to 5 years.
The Grenada Village Playgroup for all pre-school children living in Grenada Village is held every Thursday morning between 9.30am and 11.30am at the Grenada Village Community Hall, 4 Mandeville Crescent, next to the children's play area. Morning tea is provided for the children (crackers and biscuits, fruit and water) along with tea and coffee for the adults. A variety of children's toys and other activities are available. A gold coin donation per child is requested to help cover expenses.
Children's Groups
Children's Groups in the area include Keas, Cubs, Scouts, Pippins, Brownies, Guides and Rangers.
Neighbourhood Watch
Grenada Village operates a Neighbourhood Watch/Support structure. Effective crime prevention has become a joint police and community responsibility and an established network providing information and support is invaluable.
Community Patrol
The Wellington North Community Patrol has been operating since 2007 and has been extremely successful in their endeavours. The patrols principally act as 'eyes and ears' for police travelling in pairs in marked community patrol vehicles, observing and reporting on incidents. They are non-confrontational and are in direct radio contact with the police at all times. This is about the community taking a little bit of responsibility within their area
Community Association
The Grenada Village Community Association Inc. was established on September 14, 1978. The Association was formally registered as an Incorporated Society in June 1986.
The Association's prime objective is to provide the residents of the Village with an officially recognised representative body that combines and works with the local authorities and other organisations, for the betterment and overall interest of the Grenada Village community.
One of the specific objectives of the Association is to identify, represent and advocate for the community's interests.
Residents' Associations are very important to the running of the city, because they provide a direct link into the community and are a central point of contact for communication. They contribute and assist in making the overall city a better place for all citizens.